Oldham & District : About
Latest News!
Of course, we have no monthly meetings at the moment, but our members' research continues. If you are a new visitor to the website, please take time to browse the Oldham pages, in the various categories identified in the 'breadcrumbs' (the yellow header on each page).
To help return visitors find 'what's new', HERE is a link to a list of updated, and new items or articles, added to the Oldham pages.
Help and Advice
The team of volunteers who man the Society Helpdesk, in Manchester Central Library, includes some of our own Branch members. The Branch committee members, and other volunteers, are always willing  to help members and visitors, with any queries that they might have, after our own monthly meetings. In addition, our monthly newsletter includes an 'e-postbag', in which readers can contribute or request information on a subject of personal interest. Newsletter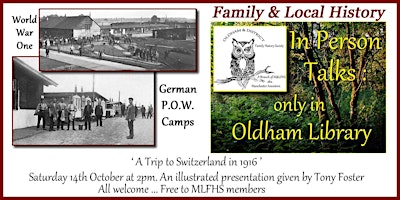 MLFHS, Oldham & District Branch, Monthly Meeting
2.00pm 14 Oct 2023 - Performance Space, Oldham Library
A Trip to Switzerland in 1916... an illustrated presentation given by Tony Foster
Details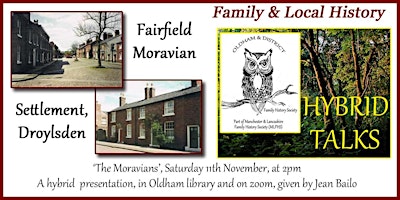 MLFHS, Oldham & District Monthly Meeting - Hybrid in library and on zoom
2.00pm 11 Nov 2023
'The Moravians' ... An illustrated presentation given by Jean Bailo, In the Library and on zoom.
Details